National Fish and Chip Day
The National Edible Oil Distributors' Association
National Fish & Chip Day 2023
The biggest day in the fish & chip calendar – National Fish & Chip Day 2023 returns for it's eight year on 2 June 2023 with two new joint headline sponsors – The Q Partnership (comprising Henry Colbeck, V A Whitley and Friars Pride) and Middleton Foods.
The event has gone from strength to strength since its launch in 2015 and despite the restrictions, nearly 50 million people would have seen, heard or read about the awareness day last year.  National TV, radio and newspapers featured stories as did the regional media.  Social media was awash with fish and chip stories with our hashtag #nationalfishandchipday and we were number 1 on Twitter from 8 a.m. and stayed there all day long!
We want to celebrate this amazing industry who are at the centre of every community and who have, when able to do so safely, kept us fed, and when that wasn't possible kept us all safe by remaining closed at great sacrifice to their business.
Thank you to this amazing industry that made National Fish & Chip Day 2022 the best yet as NEODA brought together everyone involved in creating this iconic British dish; from Fish & Chip shops, pub chains, restaurants, retailers, to the fishermen and farmers who provide the sustainable and natural ingredients needed to create this family favourite.  In the meantime, stay safe.  KEEP AN EYE OUT ON THIS PAGE FOR FURTHER NEWS!
Don't miss your chance to get involved and build support – start tweeting with the hashtag #nationalfishandchipday now!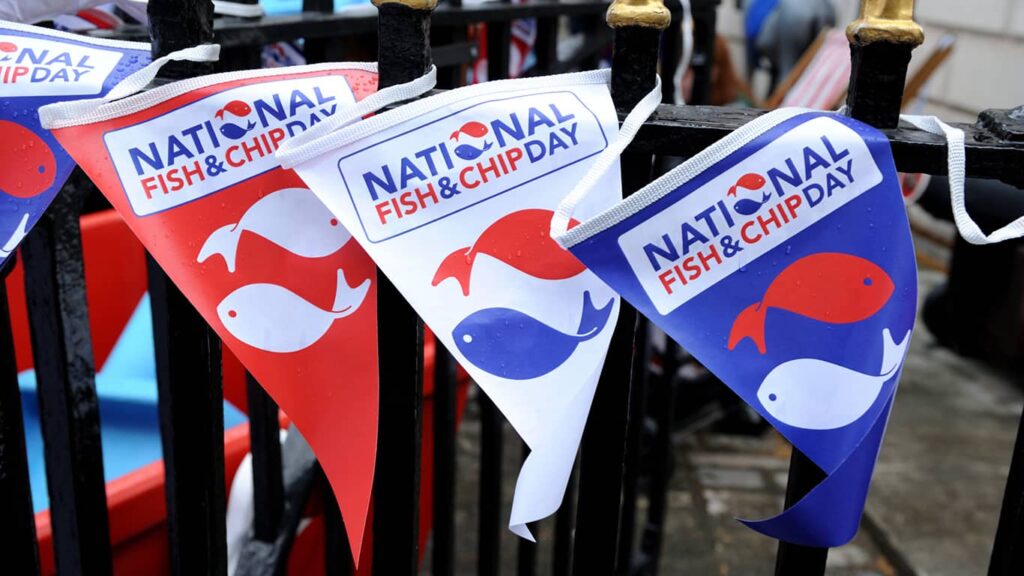 We are delighted to be offering new and refreshed National Fish & Chip Day Merchandise this year – branded aprons, caps and t shirts in Red, Blue, Yellow and Green.  For each item sold, we will donate 50p to The Fishermen's Mission.  Bunting is also available at a very low price along with some great social media props to generate a buzz in the shop.  
Downloadable National Fish and Chip Day material
By registering your details on the form below, you will gain access to lots of National Fish and Chip Day downloadable material including:
A campaign toolkit with lots of ideas
A2, A3 and A4 downloadable posters that you could print yourself or send to a local printer
A press release (as an editable word document) template that you can populate with your own shop details
A variety of logos for use in posters or social media
If the documents do not open automatically when you click on them, please check your desktop or downloads folder. By filling in your information, you are agreeing to give us your details purely to keep you up-to-date with information regarding National Fish and Chip Day.
Already registered? Login here